Anki is a great app for using spaced repetition to help you retain information in your long-term memory.
But the default configuration is not ideal for displaying code. Here are some guidelines on setting up syntax highlighting (with dark mode compatibility).
Set Up Steps
Download Anki on your computer from here
Install the Syntax Highlighting for Code add-on
Add a Basic Card type (Front → Back)
Apply the config on provided below
Note that if you're using an older version of Anki (< 2.1.20) then you'll need the Night Mode add-on for dark mode.
Adding a Note Type
Here are the steps for adding a new note type in case you are not familiar with Anki.
Open the "Manage Note Types" panel from the "Notes" menu.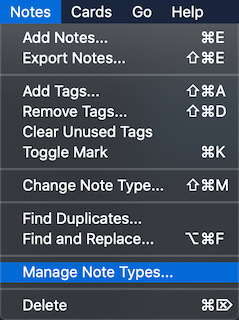 Click on "Add" to open the "Add Note Type" panel, select the "Add:Basic" type and click "OK".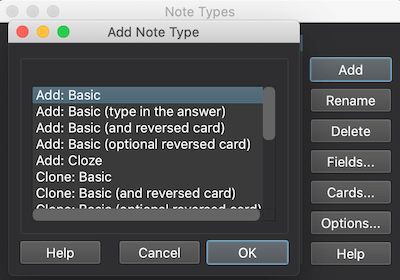 Name your new note type and click "OK".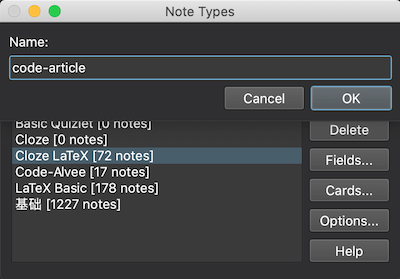 Select your new note type and click on "Cards…".
This will bring up the card customization panel.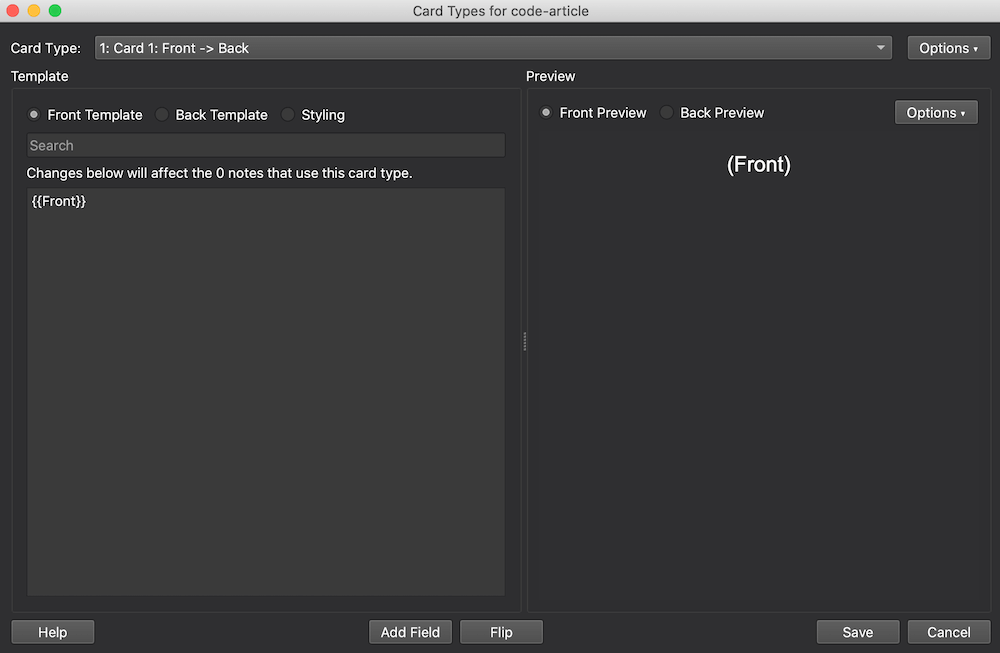 My Config
Check out the Syntax Highlighting add-on docs here if you want to further customize your config.
You can add different themes from here.
Front Template
1


2


3


<

div

 

class

=

"front"

>


  {{Front}}


<

/

div

>



Back Template
1


2


3


4


5


6


7


<

div

 

class

=

"back"

>


  {{FrontSide}}

  

<

hr

 

id

=

answer

>



  {{Back}}


<

div

 

class

=

"back"

>



Styling
  1


  2


  3


  4


  5


  6


  7


  8


  9


 10


 11


 12


 13


 14


 15


 16


 17


 18


 19


 20


 21


 22


 23


 24


 25


 26


 27


 28


 29


 30


 31


 32


 33


 34


 35


 36


 37


 38


 39


 40


 41


 42


 43


 44


 45


 46


 47


 48


 49


 50


 51


 52


 53


 54


 55


 56


 57


 58


 59


 60


 61


 62


 63


 64


 65


 66


 67


 68


 69


 70


 71


 72


 73


 74


 75


 76


 77


 78


 79


 80


 81


 82


 83


 84


 85


 86


 87


 88


 89


 90


 91


 92


 93


 94


 95


 96


 97


 98


 99


100


101


102


103


104


105


106


107


108


109


110


111


112


113


114


115


116


117


118


119


120


121


122


123


124


125


126


127


128


129


130


131


132


133


134


135


136


137


138


139


140


141


142


143


144


145


146


147


148


149


150


151


152


153


154


155


156


157


158


159


160


161


162


163


164


165


.

card

 

{


 

font-family

:

 

"Open Sans"

,

"Lucida Sans"

,

arial

,

sans-serif

;


 

font-size

:

 

16

px

;


 

text-align

:

 

left

;


 

color

:

 

black

;


 

background-color

:

 

white

;




}





pre

 

{


  

font-family

:

 

Consolas

,

Menlo

,

Monaco

,

monospace

;


  

font-size

:

 

14

px

;


  

line-height

:

 

1.5

;




}





.

night_mode

 

code

 

{


  

background-color

:

#1e293d




}





.

night_mode

 

.

 

{




background-color

:

 

black

;




}





/* Dark Mode */




.

night_mode

 

.

highlight

 

pre

 

{

 

background-color

:

 

#272822

;

 

}




.

night_mode

 

.

highlight

 

.

hll

 

{

 

background-color

:

 

#272822

;

 

}




.

night_mode

 

.

highlight

 

.

c

 

{

 

color

:

 

#75715e

 

}

 

/* Comment */




.

night_mode

 

.

highlight

 

.

err

 

{

 

color

:

 

#960050

;

 

background-color

:

 

#1e0010

 

}

 

/* Error */




.

night_mode

 

.

highlight

 

.

k

 

{

 

color

:

 

#66d9ef

 

}

 

/* Keyword */




.

night_mode

 

.

highlight

 

.

l

 

{

 

color

:

 

#ae81ff

 

}

 

/* Literal */




.

night_mode

 

.

highlight

 

.

n

 

{

 

color

:

 

#f8f8f2

 

}

 

/* Name */




.

night_mode

 

.

highlight

 

.

o

 

{

 

color

:

 

#f92672

 

}

 

/* Operator */




.

night_mode

 

.

highlight

 

.

p

 

{

 

color

:

 

#f8f8f2

 

}

 

/* Punctuation */




.

night_mode

 

.

highlight

 

.

cm

 

{

 

color

:

 

#75715e

 

}

 

/* Comment.Multiline */




.

night_mode

 

.

highlight

 

.

cp

 

{

 

color

:

 

#75715e

 

}

 

/* Comment.Preproc */




.

night_mode

 

.

highlight

 

.

c1

 

{

 

color

:

 

#75715e

 

}

 

/* Comment.Single */




.

night_mode

 

.

highlight

 

.

cs

 

{

 

color

:

 

#75715e

 

}

 

/* Comment.Special */




.

night_mode

 

.

highlight

 

.

ge

 

{

 

font-style

:

 

italic

 

}

 

/* Generic.Emph */




.

night_mode

 

.

highlight

 

.

gs

 

{

 

font-weight

:

 

bold

 

}

 

/* Generic.Strong */




.

night_mode

 

.

highlight

 

.

kc

 

{

 

color

:

 

#66d9ef

 

}

 

/* Keyword.Constant */




.

night_mode

 

.

highlight

 

.

kd

 

{

 

color

:

 

#66d9ef

 

}

 

/* Keyword.Declaration */




.

night_mode

 

.

highlight

 

.

kn

 

{

 

color

:

 

#f92672

 

}

 

/* Keyword.Namespace */




.

night_mode

 

.

highlight

 

.

kp

 

{

 

color

:

 

#66d9ef

 

}

 

/* Keyword.Pseudo */




.

night_mode

 

.

highlight

 

.

kr

 

{

 

color

:

 

#66d9ef

 

}

 

/* Keyword.Reserved */




.

night_mode

 

.

highlight

 

.

kt

 

{

 

color

:

 

#66d9ef

 

}

 

/* Keyword.Type */




.

night_mode

 

.

highlight

 

.

ld

 

{

 

color

:

 

#e6db74

 

}

 

/* Literal.Date */




.

night_mode

 

.

highlight

 

.

m

 

{

 

color

:

 

#ae81ff

 

}

 

/* Literal.Number */




.

night_mode

 

.

highlight

 

.

s

 

{

 

color

:

 

#e6db74

 

}

 

/* Literal.String */




.

night_mode

 

.

highlight

 

.

na

 

{

 

color

:

 

#a6e22e

 

}

 

/* Name.Attribute */




.

night_mode

 

.

highlight

 

.

nb

 

{

 

color

:

 

#f8f8f2

 

}

 

/* Name.Builtin */




.

night_mode

 

.

highlight

 

.

nc

 

{

 

color

:

 

#a6e22e

 

}

 

/* Name.Class */




.

night_mode

 

.

highlight

 

.

no

 

{

 

color

:

 

#66d9ef

 

}

 

/* Name.Constant */




.

night_mode

 

.

highlight

 

.

nd

 

{

 

color

:

 

#a6e22e

 

}

 

/* Name.Decorator */




.

night_mode

 

.

highlight

 

.

ni

 

{

 

color

:

 

#f8f8f2

 

}

 

/* Name.Entity */




.

night_mode

 

.

highlight

 

.

ne

 

{

 

color

:

 

#a6e22e

 

}

 

/* Name.Exception */




.

night_mode

 

.

highlight

 

.

nf

 

{

 

color

:

 

#a6e22e

 

}

 

/* Name.Function */




.

night_mode

 

.

highlight

 

.

nl

 

{

 

color

:

 

#f8f8f2

 

}

 

/* Name.Label */




.

night_mode

 

.

highlight

 

.

nn

 

{

 

color

:

 

#f8f8f2

 

}

 

/* Name.Namespace */




.

night_mode

 

.

highlight

 

.

nx

 

{

 

color

:

 

#a6e22e

 

}

 

/* Name.Other */




.

night_mode

 

.

highlight

 

.

py

 

{

 

color

:

 

#f8f8f2

 

}

 

/* Name.Property */




.

night_mode

 

.

highlight

 

.

nt

 

{

 

color

:

 

#f92672

 

}

 

/* Name.Tag */




.

night_mode

 

.

highlight

 

.

nv

 

{

 

color

:

 

#f8f8f2

 

}

 

/* Name.Variable */




.

night_mode

 

.

highlight

 

.

ow

 

{

 

color

:

 

#f92672

 

}

 

/* Operator.Word */




.

night_mode

 

.

highlight

 

.

w

 

{

 

color

:

 

#f8f8f2

 

}

 

/* Text.Whitespace */




.

night_mode

 

.

highlight

 

.

mf

 

{

 

color

:

 

#ae81ff

 

}

 

/* Literal.Number.Float */




.

night_mode

 

.

highlight

 

.

mh

 

{

 

color

:

 

#ae81ff

 

}

 

/* Literal.Number.Hex */




.

night_mode

 

.

highlight

 

.

mi

 

{

 

color

:

 

#ae81ff

 

}

 

/* Literal.Number.Integer */




.

night_mode

 

.

highlight

 

.

mo

 

{

 

color

:

 

#ae81ff

 

}

 

/* Literal.Number.Oct */




.

night_mode

 

.

highlight

 

.

sb

 

{

 

color

:

 

#e6db74

 

}

 

/* Literal.String.Backtick */




.

night_mode

 

.

highlight

 

.

sc

 

{

 

color

:

 

#e6db74

 

}

 

/* Literal.String.Char */




.

night_mode

 

.

highlight

 

.

sd

 

{

 

color

:

 

#e6db74

 

}

 

/* Literal.String.Doc */




.

night_mode

 

.

highlight

 

.

s2

 

{

 

color

:

 

#e6db74

 

}

 

/* Literal.String.Double */




.

night_mode

 

.

highlight

 

.

se

 

{

 

color

:

 

#ae81ff

 

}

 

/* Literal.String.Escape */




.

night_mode

 

.

highlight

 

.

sh

 

{

 

color

:

 

#e6db74

 

}

 

/* Literal.String.Heredoc */




.

night_mode

 

.

highlight

 

.

si

 

{

 

color

:

 

#e6db74

 

}

 

/* Literal.String.Interpol */




.

night_mode

 

.

highlight

 

.

sx

 

{

 

color

:

 

#e6db74

 

}

 

/* Literal.String.Other */




.

night_mode

 

.

highlight

 

.

sr

 

{

 

color

:

 

#e6db74

 

}

 

/* Literal.String.Regex */




.

night_mode

 

.

highlight

 

.

s1

 

{

 

color

:

 

#e6db74

 

}

 

/* Literal.String.Single */




.

night_mode

 

.

highlight

 

.

ss

 

{

 

color

:

 

#e6db74

 

}

 

/* Literal.String.Symbol */




.

night_mode

 

.

highlight

 

.

bp

 

{

 

color

:

 

#f8f8f2

 

}

 

/* Name.Builtin.Pseudo */




.

night_mode

 

.

highlight

 

.

vc

 

{

 

color

:

 

#f8f8f2

 

}

 

/* Name.Variable.Class */




.

night_mode

 

.

highlight

 

.

vg

 

{

 

color

:

 

#f8f8f2

 

}

 

/* Name.Variable.Global */




.

night_mode

 

.

highlight

 

.

vi

 

{

 

color

:

 

#f8f8f2

 

}

 

/* Name.Variable.Instance */




.

night_mode

 

.

highlight

 

.

il

 

{

 

color

:

 

#ae81ff

 

}

 

/* Literal.Number.Integer.Long */





.

night_mode

 

.

highlight

 

.

gh

 

{

 

}

 

/* Generic Heading & Diff Header */




.

night_mode

 

.

highlight

 

.

gu

 

{

 

color

:

 

#75715e

;

 

}

 

/* Generic.Subheading & Diff Unified/Comment? */




.

night_mode

 

.

highlight

 

.

gd

 

{

 

color

:

 

#f92672

;

 

}

 

/* Generic.Deleted & Diff Deleted */




.

night_mode

 

.

highlight

 

.

gi

 

{

 

color

:

 

#a6e22e

;

 

}

 

/* Generic.Inserted & Diff Inserted */





.

night_mode

 

.

highlight

 

{

background-color

:

 

#272822

 

!important

}




.

night_mode

 

pre

 

{

color

:

 

#666666

;

}




.

night_mode

 

.

linenodiv

 

{

background-color

:

 

#272822

 

!important

}





/* End Dark Mode */





.

highlight

 

{


  

text-align

:

left

;


  

font-family

:

 

droid

 

sans

 

mono

;


  

background-color

:

 

#f2f2f2

;


  

padding-left

:

 

5

px

;


  

padding-right

:

 

5

px

;




}





.

highlight

 

.

hll

 

{

 

background-color

:

 

#ffffcc

 

}




.

highlight

  

{

 

background

:

 

#f8f8f8

;

 

}




.

highlight

 

.

c

 

{

 

color

:

 

#408080

;

 

font-style

:

 

italic

 

}

 

/* Comment */




.

highlight

 

.

err

 

{

 

border

:

 

1

px

 

solid

 

#FF0000

 

}

 

/* Error */




.

highlight

 

.

k

 

{

 

color

:

 

#008000

;

 

font-weight

:

 

bold

 

}

 

/* Keyword */




.

highlight

 

.

o

 

{

 

color

:

 

#666666

 

}

 

/* Operator */




.

highlight

 

.

cm

 

{

 

color

:

 

#408080

;

 

font-style

:

 

italic

 

}

 

/* Comment.Multiline */




.

highlight

 

.

cp

 

{

 

color

:

 

#BC7A00

 

}

 

/* Comment.Preproc */




.

highlight

 

.

c1

 

{

 

color

:

 

#408080

;

 

font-style

:

 

italic

 

}

 

/* Comment.Single */




.

highlight

 

.

cs

 

{

 

color

:

 

#408080

;

 

font-style

:

 

italic

 

}

 

/* Comment.Special */




.

highlight

 

.

gd

 

{

 

color

:

 

#A00000

 

}

 

/* Generic.Deleted */




.

highlight

 

.

ge

 

{

 

font-style

:

 

italic

 

}

 

/* Generic.Emph */




.

highlight

 

.

gr

 

{

 

color

:

 

#FF0000

 

}

 

/* Generic.Error */




.

highlight

 

.

gh

 

{

 

color

:

 

#000080

;

 

font-weight

:

 

bold

 

}

 

/* Generic.Heading */




.

highlight

 

.

gi

 

{

 

color

:

 

#00A000

 

}

 

/* Generic.Inserted */




.

highlight

 

.

go

 

{

 

color

:

 

#808080

 

}

 

/* Generic.Output */




.

highlight

 

.

gp

 

{

 

color

:

 

#000080

;

 

font-weight

:

 

bold

 

}

 

/* Generic.Prompt */




.

highlight

 

.

gs

 

{

 

font-weight

:

 

bold

 

}

 

/* Generic.Strong */




.

highlight

 

.

gu

 

{

 

color

:

 

#800080

;

 

font-weight

:

 

bold

 

}

 

/* Generic.Subheading */




.

highlight

 

.

gt

 

{

 

color

:

 

#0040D0

 

}

 

/* Generic.Traceback */




.

highlight

 

.

kc

 

{

 

color

:

 

#008000

;

 

font-weight

:

 

bold

 

}

 

/* Keyword.Constant */




.

highlight

 

.

kd

 

{

 

color

:

 

#008000

;

 

font-weight

:

 

bold

 

}

 

/* Keyword.Declaration */




.

highlight

 

.

kn

 

{

 

color

:

 

#008000

;

 

font-weight

:

 

bold

 

}

 

/* Keyword.Namespace */




.

highlight

 

.

kp

 

{

 

color

:

 

#008000

 

}

 

/* Keyword.Pseudo */




.

highlight

 

.

kr

 

{

 

color

:

 

#008000

;

 

font-weight

:

 

bold

 

}

 

/* Keyword.Reserved */




.

highlight

 

.

kt

 

{

 

color

:

 

#B00040

 

}

 

/* Keyword.Type */




.

highlight

 

.

m

 

{

 

color

:

 

#666666

 

}

 

/* Literal.Number */




.

highlight

 

.

s

 

{

 

color

:

 

#BA2121

 

}

 

/* Literal.String */




.

highlight

 

.

na

 

{

 

color

:

 

#7D9029

 

}

 

/* Name.Attribute */




.

highlight

 

.

nb

 

{

 

color

:

 

#008000

 

}

 

/* Name.Builtin */




.

highlight

 

.

nc

 

{

 

color

:

 

#0000FF

;

 

font-weight

:

 

bold

 

}

 

/* Name.Class */




.

highlight

 

.

no

 

{

 

color

:

 

#880000

 

}

 

/* Name.Constant */




.

highlight

 

.

nd

 

{

 

color

:

 

#AA22FF

 

}

 

/* Name.Decorator */




.

highlight

 

.

ni

 

{

 

color

:

 

#999999

;

 

font-weight

:

 

bold

 

}

 

/* Name.Entity */




.

highlight

 

.

ne

 

{

 

color

:

 

#D2413A

;

 

font-weight

:

 

bold

 

}

 

/* Name.Exception */




.

highlight

 

.

nf

 

{

 

color

:

 

#0000FF

 

}

 

/* Name.Function */




.

highlight

 

.

nl

 

{

 

color

:

 

#A0A000

 

}

 

/* Name.Label */




.

highlight

 

.

nn

 

{

 

color

:

 

#0000FF

;

 

font-weight

:

 

bold

 

}

 

/* Name.Namespace */




.

highlight

 

.

nt

 

{

 

color

:

 

#008000

;

 

font-weight

:

 

bold

 

}

 

/* Name.Tag */




.

highlight

 

.

nv

 

{

 

color

:

 

#19177C

 

}

 

/* Name.Variable */




.

highlight

 

.

ow

 

{

 

color

:

 

#AA22FF

;

 

font-weight

:

 

bold

 

}

 

/* Operator.Word */




.

highlight

 

.

w

 

{

 

color

:

 

#bbbbbb

 

}

 

/* Text.Whitespace */




.

highlight

 

.

mf

 

{

 

color

:

 

#666666

 

}

 

/* Literal.Number.Float */




.

highlight

 

.

mh

 

{

 

color

:

 

#666666

 

}

 

/* Literal.Number.Hex */




.

highlight

 

.

mi

 

{

 

color

:

 

#666666

 

}

 

/* Literal.Number.Integer */




.

highlight

 

.

mo

 

{

 

color

:

 

#666666

 

}

 

/* Literal.Number.Oct */




.

highlight

 

.

sb

 

{

 

color

:

 

#BA2121

 

}

 

/* Literal.String.Backtick */




.

highlight

 

.

sc

 

{

 

color

:

 

#BA2121

 

}

 

/* Literal.String.Char */




.

highlight

 

.

sd

 

{

 

color

:

 

#BA2121

;

 

font-style

:

 

italic

 

}

 

/* Literal.String.Doc */




.

highlight

 

.

s2

 

{

 

color

:

 

#BA2121

 

}

 

/* Literal.String.Double */




.

highlight

 

.

se

 

{

 

color

:

 

#BB6622

;

 

font-weight

:

 

bold

 

}

 

/* Literal.String.Escape */




.

highlight

 

.

sh

 

{

 

color

:

 

#BA2121

 

}

 

/* Literal.String.Heredoc */




.

highlight

 

.

si

 

{

 

color

:

 

#BB6688

;

 

font-weight

:

 

bold

 

}

 

/* Literal.String.Interpol */




.

highlight

 

.

sx

 

{

 

color

:

 

#008000

 

}

 

/* Literal.String.Other */




.

highlight

 

.

sr

 

{

 

color

:

 

#BB6688

 

}

 

/* Literal.String.Regex */




.

highlight

 

.

s1

 

{

 

color

:

 

#BA2121

 

}

 

/* Literal.String.Single */




.

highlight

 

.

ss

 

{

 

color

:

 

#19177C

 

}

 

/* Literal.String.Symbol */




.

highlight

 

.

bp

 

{

 

color

:

 

#008000

 

}

 

/* Name.Builtin.Pseudo */




.

highlight

 

.

vc

 

{

 

color

:

 

#19177C

 

}

 

/* Name.Variable.Class */




.

highlight

 

.

vg

 

{

 

color

:

 

#19177C

 

}

 

/* Name.Variable.Global */




.

highlight

 

.

vi

 

{

 

color

:

 

#19177C

 

}

 

/* Name.Variable.Instance */




.

highlight

 

.

il

 

{

 

color

:

 

#666666

 

}

 

/* Literal.Number.Integer.Long */